Shahrukh's Second Chance
is the 35th episode of Season 4.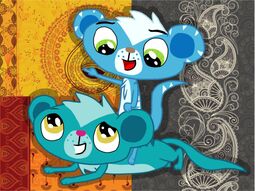 Sharukkh returns to Littlest Pet Shop and all the pets are really annoyed by his bossy demands, but Sunil is the only one who will give his look alike another chance to change and tries to become his first friend.
The episode begins with
Characters shown in this episode
Edit
Sunil
Shahrukh
Pepper
Minka
Penny Ling
Zoe
Russell
Vinnie
Blythe
Lief
This is Shahrukh's second appearance.
Transcript
Edit
Sunil: Well, somebody needs to help Shahrukh change and that someone is me. Because it's like what Lief said, "It's never too late to help someone have a change of heart."
Ad blocker interference detected!
Wikia is a free-to-use site that makes money from advertising. We have a modified experience for viewers using ad blockers

Wikia is not accessible if you've made further modifications. Remove the custom ad blocker rule(s) and the page will load as expected.