Sabrina Spellman is a 16 year old half-witch, half-human, and all super hero as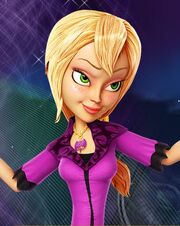 she leads two vastly different lives — one disguised as a normal,klutzy high-school student and the other as the top sorcery student in the magical world. When her two worlds collide, Sabrina is the only one who has the power to battle her foes, while managing to keep her magical identity a secret from humankind.
Sabrina possesses the element of dreams in the elements of teamwork.
Lief
Dennis
Strawberry Shortcake
Betty Barrett
Robbie Shippton
Lucky
Yawp
Dander
Twilight Sparkle
Buster Bunny
Blythe Baxter
Wakko Warner
Guy Hamdon
SheZow
Komodo
Mouse
Sasquatch
Rex
Unicorn
Jessie
Harvey
Salem
Ad blocker interference detected!
Wikia is a free-to-use site that makes money from advertising. We have a modified experience for viewers using ad blockers

Wikia is not accessible if you've made further modifications. Remove the custom ad blocker rule(s) and the page will load as expected.