My Sweetheart Kitty
is the 12th episode of Season 6.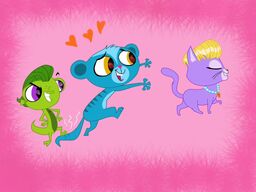 Vinnie tries to get Sunil to break up with Deliah after growing tired of him paying attention to her than Vinnie. But then another cat comes to the daycare and Vinnie quickly falls for her until he realizes that this is causing a rift between him and Sunil.
The episode begins with
Characters shown in this episode
Edit
Sunil
Vinnie
Delilah
Blythe
Buster Bunny
Lief
Twilight Sparkle
Fluttershy
Wakko Warner
Russell
Zoe
Minka
Penny Ling
Pepper
Strawberry Shortcake
Buttercream
Transcript
Edit
Ad blocker interference detected!
Wikia is a free-to-use site that makes money from advertising. We have a modified experience for viewers using ad blockers

Wikia is not accessible if you've made further modifications. Remove the custom ad blocker rule(s) and the page will load as expected.