Harvey Kinkel 
is one of Sabrina's friends from Earth. In other versions (
Sabrina, the Teenage Witch
) he was Sabrina's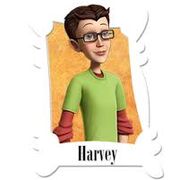 main romantic interest and boyfriend, but is replaced by Jim in this 3D computer-animated series.  He is a major supporting character, as he appears in most episodes.
He appears to be very nerdy, geeky, and friendly. He is also obsessed with werewolves, but did not know that he actually was one every full moon . But thanks to Enchantra accidentaly letting Sabrina know that there was indeed a cure in the episode Creatures and Caves, he does not have to become a viciously violent werewolf when there is a full moon anymore.
Unlike previous versions, Harvey acts like a nerd and has a liking for computers, and superheroe comic books. He is fasinated when he witnesses Sabrina instinctly using her magical abilities to save Jim. He is also allergic to gluten, as it messes with his insides. His wish is to have a theme park behind Greendale High School.
Ad blocker interference detected!
Wikia is a free-to-use site that makes money from advertising. We have a modified experience for viewers using ad blockers

Wikia is not accessible if you've made further modifications. Remove the custom ad blocker rule(s) and the page will load as expected.