A lovable yet mischievous tween who hates responsibility, Guy Hamdon is suddenly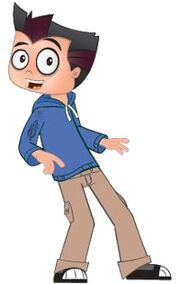 forced to save the world as the legendary female superhero Shezow. Trapped inside a crazy female superhero costume with big hair, high heeled go-go boots and she-mazing superpowers like mega strength and she-riffic speed, Guy "plays" the part of heroine on his way to becoming a male superhero.
Like SheZow, Guy possesses the element of sincerity in the Elements of Teamwork but he can only activate it when he is SheZow. But thanks to Komodo's element of light, he can activate it as both himself and SheZow!
Lief
Dennis
Betty Barrett
Strawberry Shortcake
Robbie Shippton
Lucky
Yawp
Dander
Twilight Sparkle
Komodo
Mouse
Sasquatch
Rex Unicorn
Maz
Ad blocker interference detected!
Wikia is a free-to-use site that makes money from advertising. We have a modified experience for viewers using ad blockers

Wikia is not accessible if you've made further modifications. Remove the custom ad blocker rule(s) and the page will load as expected.