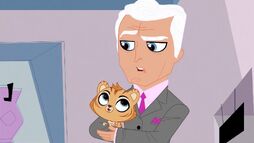 Fisher Biskit is Brittany and Whittany's father who owns The Largest Ever Pet Shop.
Appearance
Edit
Fisher has white hair, white eyebrows, dark peach skin, blue eyes unlike his daughters, a grey suit, a purple necktie, black shoes, a pink undershirt, and grey pants. He speaks with a British accent, most likely Anglo-Irish.
Personality
Edit
Not much is known about his personality yet. However, he appears to be rather distant from his children, seeming to let them do as they please, for the most part. In "Bakers and Fakers," it is shown that he values hard work, as he encourages his daughters to work on their project themselves rather than make others do it for them or take the easy way out.

Apparently, he knows Mrs. Twombly. As of late, their relationship is unpleasant.
Despite his maturity, Fisher has shown to be as eccentric as most of the adults on the show, such as when he haphazardly searches for a coated man (the pets in disguise) in If the Shoe Fits.
Ad blocker interference detected!
Wikia is a free-to-use site that makes money from advertising. We have a modified experience for viewers using ad blockers

Wikia is not accessible if you've made further modifications. Remove the custom ad blocker rule(s) and the page will load as expected.