Curly, along with Pie face, is one of Dennis's best mates, always ready to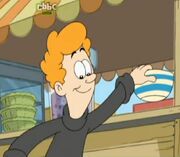 follow him into action.
He plays drums in the Dinmakers, the noisiest band in Beanotown, and as well as providing musical accompaniment, he frequently accompanies his mate into trouble. Curly's a bit more cautious than Dennis - there are grizzly bears more cautious than Dennis! - but he usually ends up getting carried along by Dennis's plans.
Ad blocker interference detected!
Wikia is a free-to-use site that makes money from advertising. We have a modified experience for viewers using ad blockers

Wikia is not accessible if you've made further modifications. Remove the custom ad blocker rule(s) and the page will load as expected.